Mevagissey Meditation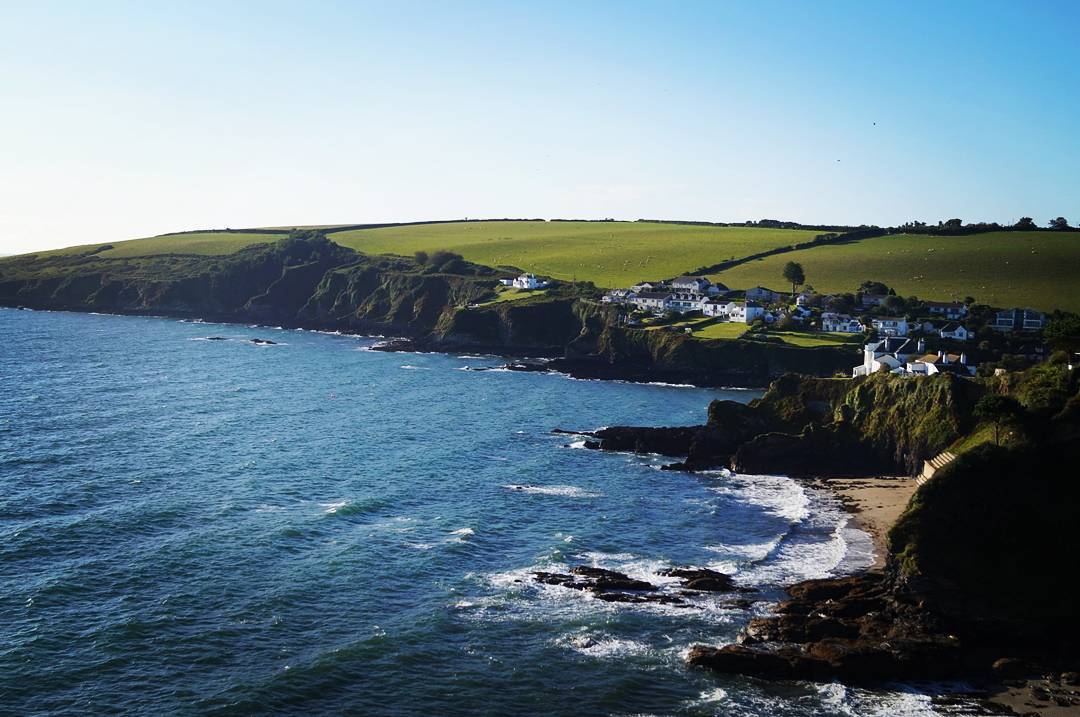 There are great benefits to be married to someone with childlike impulses.
Hubby decided, somewhat last minute, that we should have a little mini-getaway within the UK (since there is so much if it that we are yet to see). We found a well-priced holiday apartment in a little fishing town on the coast of Cornwall and booked ourselves a 4-night stay to coincide with his birthday.
Fortunately for us, I really enjoy driving so the thought of a 6-hour drive was not off-putting. Anyway, I'll take any excuse to have breakfast at a farm café.
Our destination was Mevagissey, a fishing village about an hour and a half east of Penzance. We had a holiday apartment at the top of a cliff, looking directly out to the water.  We spent so much time just silently staring at that view! When I first moved to the UK, I said I missed "big blue sky" – that infinite clean space that is so rich, so engrossing, that you feel you could just dive up into the atmosphere. Our view was just the same, but upside down and physically possible to go for a dive.
Image: Mevagissey by AJ Jain. All rights reserved
Actually, there were too many views and I could have stayed in Mevagissey for a whole week just feeding my eyes.  From our apartment, it was an easy downhill stroll to the town centre and the view en route was even better.  In addition to the stunning sea views, the birds' eye view of the town made it look like a model village, with colourful little boats in the marina and little pairs of people sitting on park benches, equally enjoying the view.
Image: Mevagissey harbour, Cornwall. (in colour) by AJ Jain. All rights reserved
The streets of the town were also a form of entertainment for us.  They were so narrow!  But I liked how this meant that drivers had no choice but to be relaxed – you can't go anywhere in a hurry, anyway.
Although we could have stayed in the town the entire trip, we did have a few nearby places we wanted to visit, thanks to the recommendation of friends. We took Serena (our car) through some even narrower country roads (great fun for me, the driver, nerve-wracking for hubby, the passenger!) and visited Minack Theatre and Sennen Cove. But these were all bonus experiences. Hubby knew exactly what he wanted to do on his birthday: go to Padstow and eat at one of Rick Stein's venues.
Image: Beautiful swan by AJ Jain. All rights reserved
It was challenging for us to stop ourselves from booking in too many activities.  We have a habit of trying to see as much as possible when we're on holidays and as a result we end up having a great time, but not actually relaxing.  We still kept quite occupied on this trip, but we did much better at relaxing than usual.  This is definitely a good indication that we should have more local (i.e. UK) holidays.  We can take our time during the drive, there's no shortage of places to visit and we won't feel pressured to cram in sights because we know we can easily return another time.
In the end, if you tend to overthink your holidays, you really need the holiday. Or you were born to be a travel agent. I haven't decided where I fit yet.
Save
---
---